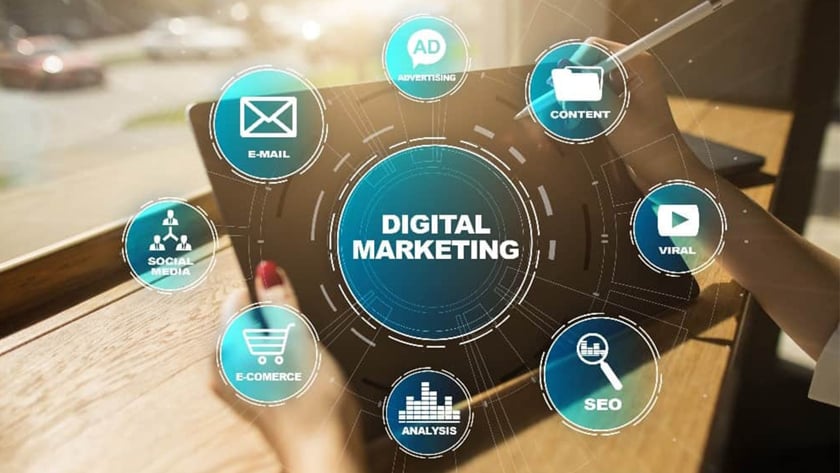 Digital Marketing Strategy Basics
In many ways, having an online presence is what makes a small business feel real in today's world. Your potential to reach your audience and grow your business is exponentially increased when you have a solid digital marketing strategy. To help get you started, here is a breakdown of the building blocks of any good digital marketing strategy.
Have a Quality Website
Sounds easy right? However, there's a lot that can go wrong if you aren't careful. If your website is slow, looks cluttered, or is hard to navigate, you'll experience a high bounce rate. Start simple and refine your website as you go along. Keep it focused on the user experience (UX) by making sure the visuals are clean and crisp while emphasizing intuitive organization and website navigation. Create quality copy for each section of your website while integrating keywords where appropriate.
Create a Google My Business Profile
Take advantage of free marketing opportunities, like Google My Business (GMB). This incredibly helpful tool is free to any Google user and takes little time to set up. You can add business information, quality photos, an SEO keyword-rich description, and even an appointment shortcut if applicable. Creating an effective GMB profile not only boosts your overall SEO, it makes it possible for you to show up in the top three preview suggestions for relevant searches. Plus, you'll be able to get reviews through Google, which will allow you to grow your online reputation.
Set Up Social Media Accounts
This is another marketing platform that costs nothing to start up. Setting up business accounts on Instagram, Facebook, Twitter, and Pinterest is quick and simple. Once your accounts are live, you can start gaining followers by posting content and making smart use of hashtags. Be sure to keep the hashtags you use relevant to your business to gain followers that are interested in what you have to offer. You should also focus on posting content that is engaging and sparks conversation. Videos are especially effective to use since they gain lots of attention. It also helps to create posts that pose a question in some way to boost engagement.
Send Emails
Your website should include ways to gather email addresses for warm leads, which you should then segment into lists based on any available indications of what the lead was interested in. By sending promotional emails tailored to specific interests, you will successfully make your marketing emails feel less spammy and more personal. It's also a good idea to send out a newsletter periodically to keep potential and current customers updated on new developments and to thank them for following your business.
Advertise Online
You can pay to advertise online using a wide variety of platforms. While using social media platforms' free functions are effective, you can get a good ROI by investing in well-thought-out paid ads and boosted posts. Google Ads is another major platform that allows you to bid on the best keywords so you can create ads that show up at the top of Google searches and earn clicks to your website.
By laying down these digital marketing basics for your business, you can set yourself up for future digital marketing success.